"Art of the Egg" Contest
For Easter, the Ojai Valley Inn & Spa is sponsoring a collaboration with Ojai Studio Artists called "Art of the Egg"
Art of the Egg - the world's most artistic egg hunt!
Visit the Ojai Valley Inn from March 23rd to April 30th to view twelve locally designed and created egg sculptures displayed throughout the resort. Vote for your favorite below.
The artist with the most votes will win a special prize - along with a $5,000 donation in his or her name to the Ojai Studio Artists Scholarship Fund.
This is an absolutely amazing, generous, huge thing for OSA's scholarship fund (applications due in May!) and a pretty cool opportunity to show our work in a creative way. The response from our group was overwhelming - a lot of us wanted in on it.
The board decided a raffle would be fair.
And because I happen to be on a streak of only the best & worst luck, I won an egg!
(I was sooooo excited!!) The eggs arrived on March 21st.
5 feet high and made from sprayed styrofoam, the egg was a little intimidating. It took up almost the whole studio.
How would I decorate it? I knew I wanted to use the Glowforge, so I set out to brainstorming. I recently discovered photographer Maria Svarbova, so my initial thought was to do a diver scene made from paper. The initial design was waaaaaay too complicated. Because there's geometry involved, I had to keep it pretty simple.
I also wanted to play around with one of my fabric print designs, "+ + +" and use texture from either acrylic or the proofgrade wood veneers available from Glowforge's shop.
I also have a very deep affinity to tiger motifs and thought maybe something floral could be fun and maybe a little more forgiving in application. I couldn't decide which I liked best.
So I mocked up a few things and polled my husband & friends.
There's a pretty decent cash prize involved in this contest (vote for me here), so I needed a crowd-pleaser.
The tigers won!
So I set about drawing the elements for a tiger / jungle pattern.
I planned to decoupage the design and to keep it simple by making the whole thing from paper.
I went to Kelly Paper in Ventura to pick out some stock in more Easter-y colors than the original concept design. They are amazing! I had no idea such a place existed. I highly recommend you check it out, even if you only need white stock for your printer - they have four aisles of it!
Paper works like a dream in the Glowforge. You can change the power of the engrave to achieve different "colors." The only hitch was the time involved - each tiger took at least 45 minutes. I was in my studio cutting and engraving and filing away all the little pieces for... forever?
I painted the base of the egg a creamy white. Initially I used spray paint, but the styrofoam just ate it up. Finally I gave up and got some paint from Ace Hardware in Meiners Oaks. I asked how many square feet one of the little tins would cover and the guy asked, "Is this for that egg?" And then mixed up a gallon. I guess he had that question eleven times that week. I planned to use Modge Podge to adhere the paper, so I went with a high gloss paint texture to match.
So, somewhere about midway through cutting all my pieces, I realized that I had better make sure I had the numbers right. I just didn't have time to waste cutting extra pieces. I tried using math, but my brain doesn't really "math" anymore. I measured the circumference at different points and then layed it out in Illustrator, but I didn't feel confident.
There are five tiger vignettes. I didn't need to achieve a perfect pattern, but I didn't want any repeating vignettes directly next to each other. So I used a six pack of Post-Its, assigned a color to each vignette and slowly & painfully figured it out. It was about 30 vignettes needed, which is exactly what I had been cutting. I guess I'm not so bad at math after all!
Next, I laid out all the "bases" to the vignettes and tested out a couple of small sections to make sure it would all fit. Then I just stuck it all on using temporary adhesive dots and went to bed with fingers crossed that it wouldn't all fall off by morning.
Then I decoupaged all the pieces on. For two days. So much Modge Podge. I had never used the stuff before my mock-ups and the curved surface was a whole new beast. It was a mess. I spent the first night panicking and Google searching how to steam the stuff off and planning ways to get around making yet another trip to Ventura for more paper and starting over on the lengthy engraving process.
But by the next morning, most of the bubbles had disappeared on their own and by the time I had finished there were no bubbles - I was a pro.
I put a top coat on every day thereafter to seal it.
I really wanted to pour a concrete base for the egg. So I bought a few bags of concrete and I tried. I looked great doing it, as you can see from my husband, Nicholas Weissman's, awesome photo. But Math strikes again. If you use three bags of concrete at sixty pounds each and then add water, how heavy is the base going to be? The answer is 3,000 lbs. I knew I was not going to be able to get it in my pick-up.
On to Plan B.
I had been using a plastic planter dish to hold up the egg which working on it and it seemed pretty solid, so I figured I might be able to pick up something similar. I chose two pieces. The green pot was not wide enough and the terracotta dish was not high enough, so I decided to merge them together. I used construction glue to fuse them and I mixed a grout that coordinated with the design of the egg to cover up the seam and make the whole thing look like one solid object.
The delivery date was Friday, March 23rd. Organized by Martha Moran, Tanya Kovaleski (pictured below), and Patricia Terrell O'Neal, and assisted by our partners Fred, Norman, and - since Nick was out of town - my stand-in partner Vera Long (who helped wrap, schlep, unwrap, fuss with, and photograph the egg), we got it loaded up and over to the Inn. Cindy Pitou Burton showed up and grabbed some photos of Vera and me wrestling with it.
So here's "Sumatran Spring." I got a great spot, right?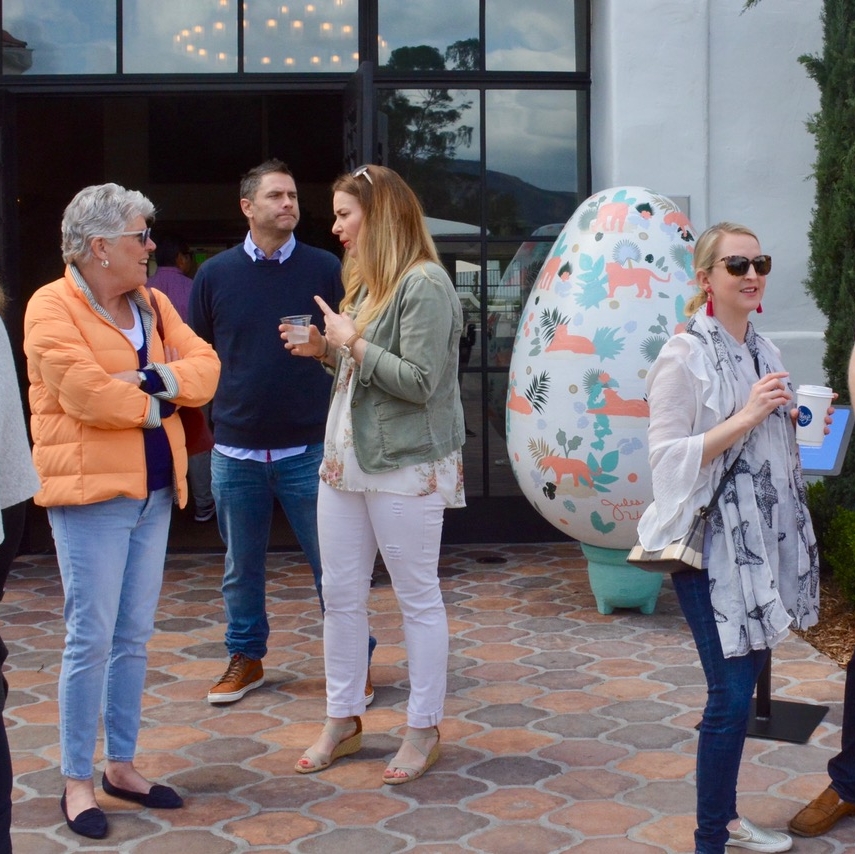 I encourage you to check out all the eggs in person. Congresswoman Julia Brownley did (picture by Cindy Pitou Burton)!
It gives you a chance to stroll the beautiful grounds of the Inn and to see twelve very unique interpretations. You can read about some of the artists' processes at OSA's blog. It was a fun challenge! You can pick up a map at reception.
You can vote for your favorite egg online here.
The eggs will be auctioned off at the end of April starting at $500, but if you don't have space for a five foot tall egg (I mean, I get it), then as an added bonus, I decided to make a "print" out of the design. You can buy archival prints, metal prints, or a wide variety of products, some of which are below, at my Society6 page.
All proceeds will KEEP LASERWOLF FED.